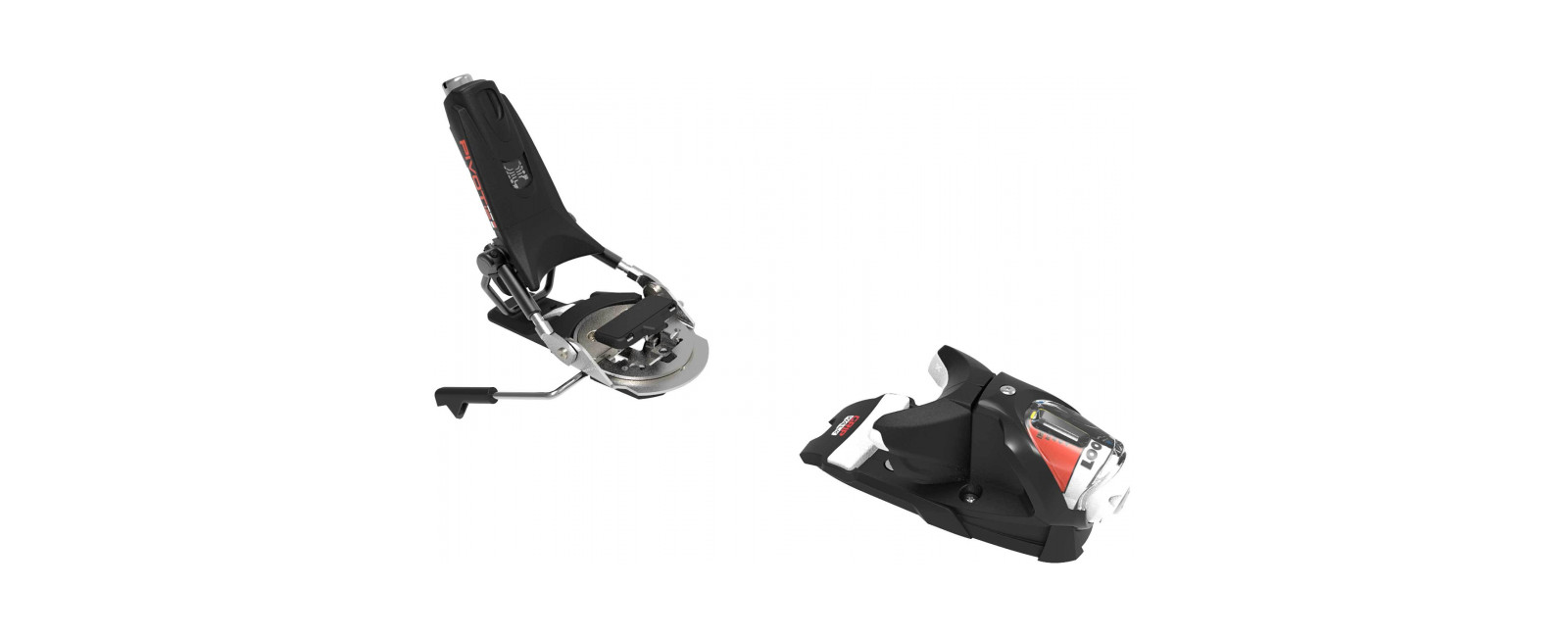 All Mountain Bindings Pivot 12 Gw B115
$279.95
Recommended retail price
The freeride Pivot ski binding sets the standard for control and release for the world's most dedicated skiers.
The binding's Full Action toe piece and unique "turntable" heel design offer expert freeskiers a responsive connection between boot and ski for instant power transmission and precise ski control. It features powerful shock absorption and travel with confident retention and release for aggressive skiing.
It's compatible with all traditional Alpine (ISO 5355) and GripWalk® boot soles.
LOOK's classic PIVOT turntable heel design offers 28mm of elastic travel and rotates directly under the tibia, delivering elite-level shock absorption and the industry's most trustworthy retention for a significant reduction in unwanted pre-release.
What is the tolerance for brake to edge distance, I have a set of Icelandic nomads, 105 w, thats only 5mm on each side with the 115mm brake
Hi! We recommend not going bigger than 10mm on each side of the ski, so a total maximum width of <20mm than your ski. Happy skiing! The Look Team
Date published: 2020-03-04
 Is there a structural  difference between the Pivot 12 and the Pivot 14? I understand the DIN settings ( I am between a 6 and 7). Is there a reason to go with the 12 vs the 14 in my case .The binding weight does not seem to be a significant factor.
Hi! There are no structural differences between the Pivot 12 and Pivot 14, the only difference are the springs, hence the different DIN settings. For a proper fitting, we recommend going into one of our authorized dealers for assistance. Thank you! The Look Team
Date published: 2020-01-30
I have these bindings and were mounted to fit a boot with a sole length of 298mm. I am purchasing new boots that are 293mm and was wondering if the binding would have an issue fitting that sole length. Thanks
Hi! We recommend bringing your bindings and boots into a trained technician who will be able to better assist you with this adjustment. Thank you! The Look Team
Date published: 2020-01-29
Ski width at the waist is 102. Is the Look Pivot 12 W with break width 115 too wide?
Hello! For a ski with a 102 waist, we would recommend going with the B115 brake. This brake width will give you 6.5mm of overhang on each side, which is still well within our standard recommendations. If you have any further questions, please send us an email directly at inforossiusa@rossignol.com Thank You! The Look Team
Date published: 2019-12-24
I'm 5'9" 195 lbs w/o clothes & ski on piste, blues & blacks.Mostly cruisers these days,& controlled speed. I have a repaired ACL,& put in about 10 days/year.Skiing a 171 ski that is 130/91/113. Can I get away with the Pivot 12,or do I need the Pivot 14?
Hello! The Pivot 12 would be an appropriate choice for your height and weight. With a DIN range of 4 - 12, this versatile range should be able to accommodate you. However, if you are still unsure regarding the DIN range, it would be a good idea to speak with an authorized retailer regarding your skiing style as many factors go into determining your ideal DIN setting. You can find the dealer nearest you by following the link below: https://storefinder.look-bindings.com/l/list?campaignId=storefinder.look-bindings.com&cc=en_ Thank You! The Look Team
Date published: 2019-12-20
Looking to get J Skis woodsman 96 should I get the pivot 14 gw 95 or 115?
Hello! We would not recommend using a brake width that is less than the waist of your ski. However your brake width should be less than 20 mm wider than the waist of your ski (10mm per side). If you have any further questions, please send us an email directly at inforossiusa@rossignol.com Thank You! The Rossignol Team
Date published: 2019-12-19
What is the difference in the B115 , B90, what does this mean? What does the B in mean ? Also is GW mean Grip Walk Boots. I have a pair of Armada ARV 106 skis 172 length. What Look Pivot Bindings would you recommend for a new park skier and why? Thanks 
b115 and b90 mean the width underfoot of the ski and the pivot b115 qwould be the right fit for your skis
Date published: 2019-10-22
Under "GRIPWALK Compatibility", it talks about it being compatible with Gripwalk boots. I'm not familiar with this. I have an AT setup on one of my skis, so I use a pair of Scarpa Diva touring boots. Will this binding be compatible with those? Thanks.
Hi! The Pivot 12 GW boots are compatible with both the Grip Walk and standard Alpine (ISO 5355) soles. If you are unsure which soles your boots feature, we would recommend reaching out directly to Scarpa in order to ensure the compatibility and to see if these bindings would be an option for you! If you have any further questions, please send us an email at inforossiusa@rossignol.com Enjoy Skiing! The Look Team
Date published: 2019-08-20