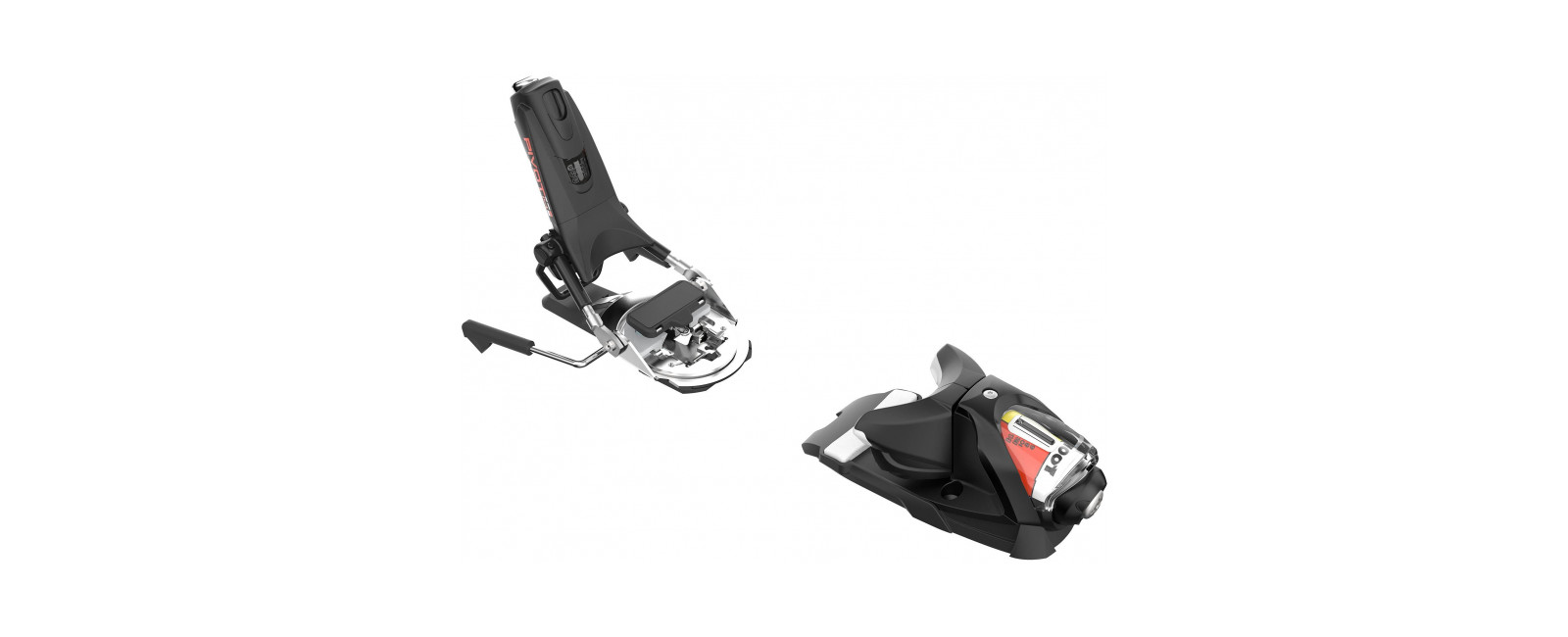 Pivot 12 AW B115 Black Icon
$375.00
Recommended retail price
The binding of choice for the world's most committed skiers; the PIVOT is the most trusted and reliable in skiing.
The classic "turntable" design with 7 points-of-contact maximizes coupling strength for instant power transmission, precision, and ski control and offers the most effective shock absorption for confident retention and release. Compatible with ALPINE and GRIP WALK boot sole norms.
LOOK's AW technology allows compatibility with two different boot sole standards: traditional Alpine soles (ISO 5355) and GRIPWALK®.
Rated

5

out of

5
by
Logan
from
Great binding.
Love this binding so crisp and sweet plus you won't wreck your knee.
Date published: 2018-10-07
Hello, What do you recommend as Fixation Pivot for the skis (Faction CT 2.0) with a skate width of 102mm? I'm a men and measure 1m66 for 66kgs. Thank you
Hi! The Pivot 12 AW B115 would be a great binding and brake width for a ski with a 102mm waist. The B115 brake can accommodate a ski width of 95 - 115mm. If you have any further questions, please send us an email directly at inforossiusa@rossignol.com Thank You! The Look Team
Date published: 2019-06-08
My skis have a 115mm waist. Does this mean i need a 130 binding?
Hi! The Pivot 12 AW B115 binding features a brake width that will work for a ski with a 95 - 115 mm waist. The B130 brake can accommodate a skis waist 115 - 130mm wide. Either binding would work for your skis, you would want to make sure that you have less than 10mm of overhang on either side of your ski. Thank you! The Look Team
Date published: 2019-06-05
We bought Pivot 12's for my son 15 months ago. Today, one of the toe piece broke in two. Is it possible to buy just a new toe piece?
Hi, We would recommend calling our Warranty and Service Department at (435) 252-3300. Thank You! The LOOK Team!
Date published: 2019-02-28
Hello, if comparing Pivot 12 AW to Pivot 12 DUAL WTR, which one would you recommend future- and tour-wise? I've read Grip Walk is the future. I don't have touring boots yet, just alpine. I have Rossignol Soul 7 HD W. I'm 70% freeride, 30% touring. Thanks!
Hi, Based off of the information that you provided, we would recommend the Pivot 12 AW. We would suggest going into an authorized LOOK dealer to see if these bindings feel right to you. You can find a dealer located near you by using our store finder at the link below: https://storefinder.look-bindings.com/ Enjoy Skiing! The LOOK Team!
Date published: 2019-02-28
If my skis have a 98mm waist under foot width. what size brake do I need for a Pivot binding?
For future customers, I recommend the 95mm brake for a 98mm waisted ski. The 115mm have a massive overhang, and looked like they would catch too easily. The 95mm brake fits perfectly on my 98mm ski. However, always check if the brake fits over the ski at an actual retailer before ordering a binding with a smaller brake size than the waist.
Date published: 2018-12-24
Hello , I don't understand how is work a Pivot binding with WTR boots  Can you clarify please ? Thanks
Hi, The Pivot 12 AW is only compatible with ISO 5355 alpine boot soles, and GRIPWALK soles. If you have a Pivot 12 DUAL binding, it is compatible with ISO 5355 Alpine boot soles, GRIPWALK soles, and WTR boot soles. For more information, feel free to contact us at infodynausa@dynastar.com. Thank You! The LOOK Team!
Date published: 2018-12-20
Ski shop put a 115 on a ski with 99 underfoot. Seems way to wide to me. Can we switch to a 95 and bend the brake out a bit. 
Hi, Because your ski is 99 mm underfoot, we would recommend the 155 mm brake width for the Pivot 12 AW. You can have up to 20 mm over overhang (10 mm on each side). For more information, feel free to contact us at inforossiusa@rossignol.com. Thank You! The LOOK Team!
Date published: 2018-11-17